We all crave comfort every time we step out of a hot shower or relaxing bath.
That's why it is important for us to consider many elements when picking face cloths, hand towels, bath towels and bath sheets for our home and bathroom.
It is vital that we consider the size, the material, the weight, the design, the environmental impact, and much more.
In this guide, we hope to give you inspiration so that you can choose the best bath towels for you and your family.
Consider the size first
It's important to get the basics right and that starts with the size.
Here at Misona, we pride ourselves on giving you a wide range of choice, that's why we offer four size of towels with the smallest being a face cloth, and the largest being a bath sheet.
Have you ever wondered what the difference between a standard bath towel and bath sheet is?
Sizes can vary slightly between collections but a standard bath towel usually measures 70 x 125cm approximately (28" x 50").
But if you're looking for a towel to completely wrap yourself up in, a bath sheet is larger in size measuring approximately 90 x 150cm (35" x 60").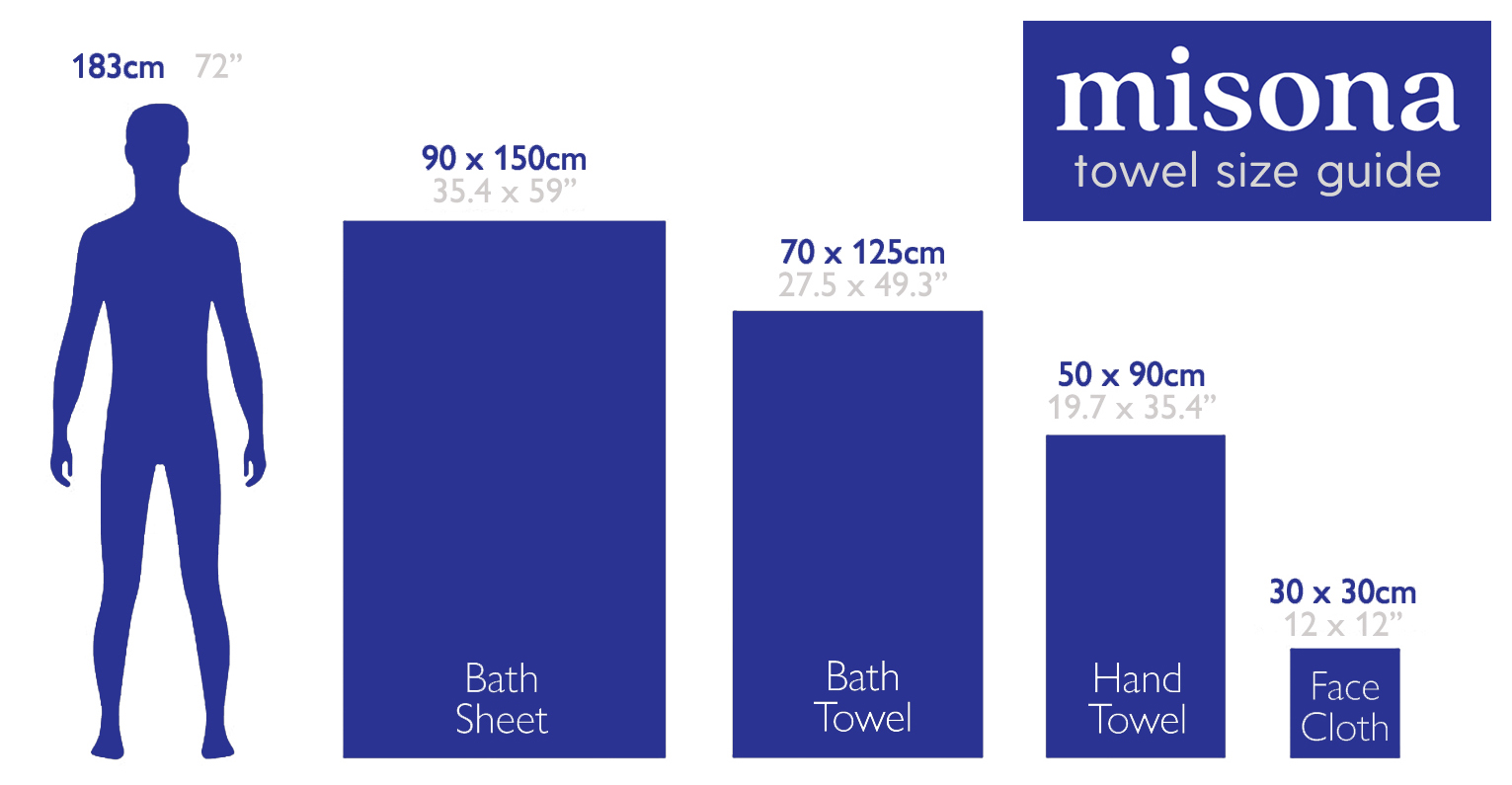 If you're looking for something smaller, a hand towel may be what you need.
Hand towels are ideal for what the name indicates - drying your hands! Perfect for hanging up in the bathroom or downstairs toilet.
And finally, measuring 30 x 30cm, face flannels are another size option when it comes to picking towels.
Using the same bath towel on your face can be very bad if you have sensitive skin, or you are prone to breakouts so it's always useful to have at least two lying around.
They also take up very little space in your bathroom, and are also perfect for packing away in a small bag for an overnight stay.
The material will affect the look & feel
From organic cotton towels to bamboo towels, the material used to construct each towel will have an impact on its look and feel.
Bamboo towels look velvety soft to the eye, more so than regular cotton towels.
The bamboo cotton combination also make these towels beautiful soft to the skin.
Sustainably grown bamboo plants produce a perfect blend with cotton to be anti-bacterial, anti-fungal, odour resistant and hypo-allergenic.
This makes bamboo towels the ideal choice for those with sensitive skin.
Where as our 100% organic cotton towels are highly absorbent and offer a more gentle scrub.
More so, the ribbed texture provides a deep super absorbent pile, which will offer comfort and warmth.
What is GSM in towels and what does it mean?
A towels weight is measured using grams per square metre (GSM). In other words, this states how thick a towel is. For instance, thicker towels will have a higher GSM.
Towels are generally in the range of 300 to 800 GSM, with anything in between. There are plenty of options out there.
Our organic cotton towels are heavyweight with 650 GSM, meaning you can expect a thick, absorbent and dense towel. This makes organic cotton towels a perfect essential for wrapping around you after a hot bath.
You will also find that thicker and larger towels will be more absorbent. 
This is because they have more surface area for the water to absorb in to, therefore they can hold much more moisture.
Bamboo towels also rank high on the GSM scale, with a weight of 580 GSM these towels are super soft and fluffy.
The blend of bamboo fibres and combed long staple cotton, alongside the towel's comprehensive zero twist ensure the towel has a luxury thick feel.
The zero twist construction also gives the impression of a bulkier towel, as it tends to be more bouncy to the touch.
Better still, as our Misona towels are a high GSM, this provides certainty that'll they be durable and longer lasting than lighter weight towels.
A design towel can give your bathroom a new look for less
Patterns, colours and textures can all contribute towards updating your bathroom with a fresh and updated feel.
A textured ribbed towel from our organic cotton range will make a subtle statement and look more expensive than a standard bath towel.
Get a finished look, and co-ordinate the organic cotton towels with a perfectly, colour matching 100% organic bath mat.
Organic cotton towels tend to have less negative environmental impact
Conventional cotton requires a mass of toxic chemicals to promote growth which causes devastating effects to soils and waterways.
This is why Misona loves organic cotton! An estimated 90% less water is required compared to traditional cotton production, which implies a massive saving.
It also doesn't require pesticides or synthetic fertilizers to be grown making it a great sustainable choice which won't leave an impact on the Earth.
All of our organic cotton towels and bath mats are GOTS certified, confirming the environmentally friendly production.